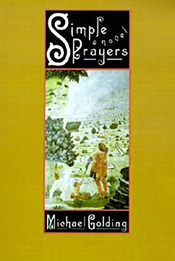 SIMPLE PRAYERS
In the fourteenth century on an Italian island called Riva di Pignoli, terrible and wonderful things are about to happen.  A corpse washes up on shore and is quickly hidden, a beautiful stranger enters the village hiding a miraculous secret, and for the first time in the memories of all the inhabitants, spring has not arrived.
What is wrong in this small world, and what is right, become the backdrop for a mesmerizing narrative iridescent with the colors and textures of medieval Italy.  Steeped in both authentic details and magical realism, SIMPLE PRAYERS creates a long-ago place that has a chilling familiarity . . . where human actions have thrown the earth off balance and where the passions and pleasures of daily life may carry a plague that not even love can heal…

[A] delightful, exotic fable . . . so lavish and so colorful it's like a meal in the open air, laid out on brocade.
— Los Angeles Times

A work of magic . . . a journey of wonder . . .
— Thomas Keneally, author of Schindler's List

Brilliant . . . provocative . . . passionately alive!
— Cleveland Plain Dealer
An extract from the novel:
ver since the baby had been born, Miriam could see a thin veil of light around things, a kind of luminous skin that made the objects themselves seem ephemeral. It began with the altar: the statue of the Virgin suddenly lost its hardness and became fluid; the bolts of linen started to glow; the straw at her feet began to pulse with an inner fire. It lasted only an instant, but for the span of that instant her longing dissolved—so Miriam found herself longing for the return of the glow. At first it came only when she knelt before her altar, but then she began to experience it throughout the day. She would be gathering the eggs and one would suddenly begin to vibrate in her hand—it would cease to be an egg, would become a ball of fire, an expression of pure energy—and by the time she'd laid it inside her basket, her entire morning was transformed.
---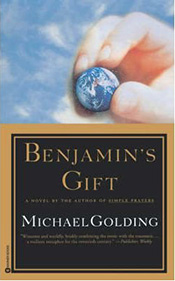 BENJAMIN'S GIFT
Jean Pierre Michel Chernovsky is a paragon of the Gilded Age, a product of both Old World and New, and a collector of all things beautiful.  Benjamin Chernovsky is his adopted orphan of the Depression, a boy whose remarkable beauty is flawed by a strawberry birthmark on his right cheek and throat and whose mind is blessed with a disturbing and miraculous gift.  United by something more binding than blood, rivals for the affections of one indomitable and exotic woman, they embark upon an odyssey filled with wild adventures and startling discoveries, a journey that will alter them—and their century—forever.

An endearing, magical romp.
— San Francisco Examiner & Chronicle

Whimsical, fanciful, and poignant. Thoroughly delightful.
— Roanoke Times.

Enigmatic and engaging
— Booklist (starred review)
An extract from the novel:
hat is the shape of a miracle? Is it slender, compact, able to fit, like a silver bead, within the palm of your hand? So dense, so deeply concentrated, that it carries an entire universe inside its smooth, brittle shell? Or is it fluid, ephemeral, an invisible substance that pours out over the moment, releasing upon its subjects a whiff of the sublime, transforming them, man and child and thing, forever?